Fruits are the heritage of our country. The variety that our nation possesses is vast and the count goes to hundreds of thousands. This became possible due to the geographical variation that ultimately leads to different types of climatic conditions and hence, the range of vegetation.
Grapes or Vitis vinifera is mostly a sub-tropical crop but the level of dedication given out by our farmers have made it possible to grow quality grapes in tropical climatic conditions too. India ranks 18th in overall production of grapes globally. But our sort of intelligent cultivation methods has led to grape's productivity or yield per hectare be the highest in the world. Our nation's total production is more than 2483 thousand tons according to Gurgaon based, Indian Horticulture database in 2013.
In past few decades, India has seen a profitable increase and growth in grape cultivation. The scientific manner of cultivation has led more and more increase in yield. During 2011-2012 India exported nearly 110 thousand tonnes of grapes, groping a profitable deal of amount. Thompson Seedless and some of its other clones are the most cultivated variety of grapes all over India. Below are few states of India in 2018 that contribute with Grape cultivation and production the most:
10. Himachal Pradesh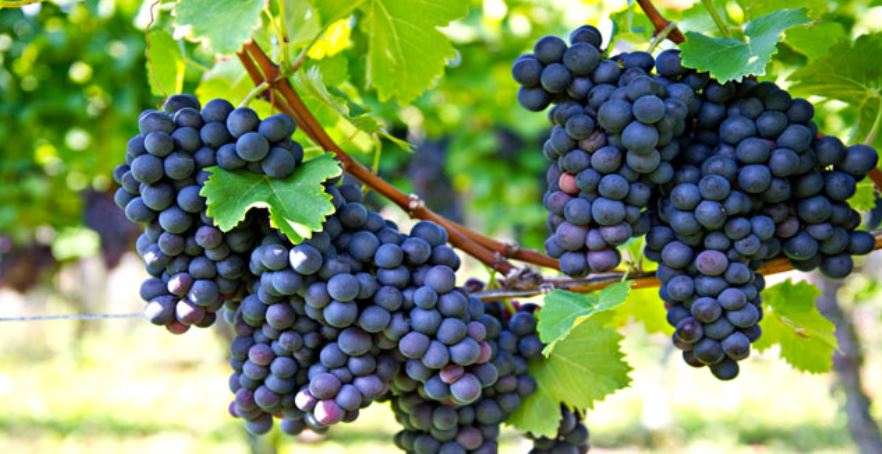 The first state to make it to list and to the tenth spot is Himachal Pradesh. Himachal is greatly known for other fruits like apple, but a small dedication is to the grape cultivation also. Despite being a not so suitable area for grape cultivation, Himachal Pradesh is working at the topmost level of its potential to grow and harvest grapes. Total measure of area under grape cultivation for this state stands to be 100 Ha which produces a little more than 200 Metric Tonnes of grapes.
9. Jammu & Kashmir
Another north Indian state to make it to the list is Jammu and Kashmir. Jammu and Kashmir region's climate do not much corporate with grape cultivation, but farmers have did their best to make a noticeable amount of grape production and get a place in the top 10 list. Kashmir and Jammu region of the state utilises 300 Ha of its land to produce over 500 metric tonnes of grapes annually.
8. Haryana
Haryana comes next in the list taking the 8th spot. Fatehabad, Hirsar and Sirsa are few of the concentrated pockets for grape production in the state. The peak season when grapes are seen the most in the state, is around mid of June i.e. from first week to 3rd week of June. Stocks from this and few other states arrive during mid of January. The state has around 100 Ha of land under grape cultivation and produces 1900 metric tonnes of grapes annually with great yield capacity.
7. Madhya Pradesh
Madhya Pradesh, the middle state of the sub-continent makes next in the list. Madhya Pradesh has optimum climatic conditions favouring average growth and production. Thompson seedless and Sonaka are couple of variety which are mostly used by farmers over here. Madhya Pradesh has a decent contribution to nation's overall grape production and is gradually increasing its worth and weightage. 500 Ha of land in this state is used to produce over 13000 metric tonnes of grapes annually.
6. Punjab
Sitting at the 6th spot is the state of Punjab. Grapes of Punjab have one of the greatest quality and delicious taste. Punjab is known as great agricultural producer of different horticulture products and grapes is one of them. The land under grape cultivation is same as previous state in the list, Haryana, but the production is much greater and the measure goes to over 15000 metric tonnes of grapes per year. Bhatinda, Muktsar and Ferozpur are some of the important grape growing regions in Punjab.
5. Mizoram
North-eastern state of Mizoram comes next in the list to hold the 5th position. Mizoram has slightly traditional plus modern mixture way of cultivation. They have proper measurements of all components of climate and are including more and more area of land under Grape Cultivation. The state produces 18500 metric tonnes of grape in stretch of land spread over 1200 ha. Grapes from over here are mostly for domestic use.
4. Andhra Pradesh
Coming next in the list is the recently divided state of Andhra Pradesh. Keeping aside the political influence and taking overall production from Telangana also as inclusion, Andhra Pradesh has grabbed the 4th spot. Their scientific and technological integration in agriculture have helped them attain a great yielding capacity of grapes produced per hectare. It has 1400 ha of land producing over 30000 metric tonnes of grapes on yearly basis.
3. Tamil Nadu
Next in the list comes Tamil Nadu. The main regions in this state where grape production is at its peak are Dindigul, Coimbatore and Theni. Grapes are mostly available during May-July and September-November in Tamil Nadu. Canopy management and high density planting is maintained to increase the yield. Tamil Nadu produces over 53200 metric tonnes of grapes annually.
2. Karnataka
The 2nd rank holder in this list is Karnataka. Karnataka's main region or concentrated pockets of cultivation are Bangalore, Bagalkot, Bijapur, Belgaum and Kolar. They produce the finest quality of varieties of grapes. The land engagement for this purpose is around 18000 Ha and their total production is a huge, more than 330 metric tonnes of grapes produced annually.
1. Maharashtra
Maharashtra is the biggest producer of grapes in the nation and holds the 1st position. Over 80 percent of the total grapes exported past years were from Maharashtra. Nasik, Satara, Solapur, Sangli, Pune and Ahmednagar are major grape growing belts in the state. Over the past decade, Maharashtra has shown a dip in total production of grapes but is still the largest producer. Maharashtra engages around 82000 ha of land for cultivating this fruit and produces a vast 440 metric tonnes of grapes annually.
So these were few states of our nation that produce grapes in much larger quantity than others. These states are fulfilling the need of the whole nation and also their products get exported to other foreign nation leading to incoming of wealth and increased economy of our Country. Let's support the farmers and contribute by paying fair prices.